We're Certified home energy Advisors
As registered Energy Advisors through Natural Resources Canada (NRCan), we provide building energy modelling, energy consulting, Stepcode compliance, EnerGuide ratings, blower door air tightness testing & various certifications for your home. We also provide knowledge & resources on the importance of energy efficiency and possible rebates available for your new home or home improvement. Learn more about energy efficiency home evaluations here.
Home Energy Modelling & Compliance
Energy Mapping with Hot2000
HOT2000 is an energy simulation and design tool used by architects, builders and yes, energy advisors.
Using the HOT2000 Energy Modelling software, we will create a virtual model of your new or existing home. With this we can model how much energy can be saved in your home by implementing our recommendations. For new builds & homes, it can determine the EnerGuide rating for your new project.
In addition to advising homeowners, we advise home builders who want to build an energy-efficient home so they can achieve any of the Part 9 steps. After construction, we visit the home for a site verification visit, which includes a blower door test to measure the building's air-tightness.
It's developed by NRCan (Natural Resources Canada).
Ref: https://enertech.solutions/hot2000-energy-modelling/
EnerGuide for Homes
EnerGuide home evaluation can be your first step towards a more energy-efficient home and savings on your utility bills. EnerGuide Rating System is a nationally recognized rating tool used in many energy efficiency programs across Canada. Whether you're planning small fixes or major renovations, an EnerGuide home evaluation helps you decide which upgrades can save you most on energy bills and increase comfort of your home.
Ref: https://www.nrcan.gc.ca/energy-efficiency/homes/what-energy-efficient-home/welcome-my-energuide/16654
BC Energy Stepcode
Ref: https://energystepcode.ca/
Blower Door Air Tightness Testing
Home energy professionals use a blower door as a diagnostic tool to determine how much air is entering or escaping from your home.
Professional energy assessors use blower door tests to help determine a home's airtightness. Our blower door instructional video illustrates how a blower door test is performed, and how your contractor utilizes the diagnostic information provided to identify areas of air leakage in your home, and make energy-saving improvements. (reference: https://basc.pnnl.gov/videos/blower-door-instructional-video)
These are some reasons for establishing the proper building tightness:
– Reducing energy consumption from excess air leakage
– Avoiding moisture condensation problems
– Avoiding uncomfortable drafts caused by cold or warm air leaking in from outside
– Controlling outdoor contaminants, pests, and odors from entering your home.
– Determining proper sizing and airflow requirements of heating and cooling equipment.
– Determining whether mechanical ventilation is needed to provide acceptable fresh air and maintain indoor air quality in your home.
Blower Doors: What Are They and How Do They Work?
A blower door is a powerful fan that a trained energy professional temporarily mounts into the frame of an exterior doorway in your home. After calibrating the device, the fan pulls air out of the house, lowering the air pressure inside. The higher outside air pressure then flows in through all unsealed gaps, cracks and openings such as gaps, cracks, or wiring penetrations. If conditions do not allow for lowering the pressure in the home, the fan may also be operated in reverse, with air pressure increased inside the home.
reference: https://www.energy.gov/energysaver/blower-door-tests
Net Zero Homes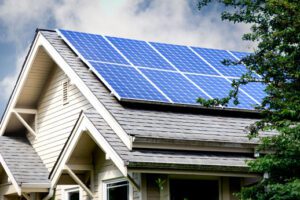 Net Zero Homes, whether new or renovated, produce as much clean energy as they consume. They are up to 80% more energy efficient than typical new homes and use renewable energy systems to produce the remaining energy they need. Every part of the house works together to provide consistent temperatures throughout, prevent drafts, and filter indoor air to reduce dust and allergens. The result: exceptional energy performance and the ultimate in comfort – a home at the forefront of sustainability. It all adds up to a better living experience.
reference: https://www.chba.ca/CHBA/BuyingNew/Net-Zero-Homes.aspx
The EnerGuide gigajoules rating shows the energy performance of a home:
The lower the number, the better the energy performance of the home.
 Zero (0) is the best energy performance a home can get. It indicates a home that produces as much energy as it consumes.
CHBA Net Zero Home Labelling Program
Find out more about CHBA's Net Zero labelling program.

Benefits to having your Designer as your Energy Advisor
What is an NRCan-registered energy advisor?
The designation of energy advisor (EA) registered with Natural Resources Canada (NRCan) means that a person has met and maintained all of the required qualifications to deliver EnerGuide rating services for eligible homes in Canada. An NRCan-registered EA can also add other NRCan services to their qualification, including the delivery of EnerGuide for Multi-Unit Residential Buildings (MURBs) and ENERGY STAR for New Homes.
What are the benefits of having your Home Designer as a Certified Energy Advisor?
By having your Home Designer as your Certified Energy Advisor, he/she will be able to offer his/her knowledge and experience on energy performance and savings through the entire design of your home, rather than after the home has already been designed. No need to get a third party Energy Advisor involved, this also streamlines the changes to the design that might need to be made during the pre-construction energy modelling phase. Your Building Designer is always looking out for the best interest of the homeowner, the performance of the home and the environment.
Building Performance Experience
Streamlined Energy Modelling
One Stop for Design, Testing & Certification
Best Interest for the Environment